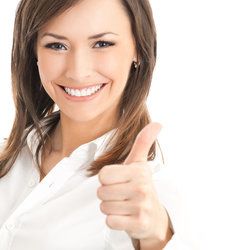 At one time or another, almost everyone has dreamed about having a whiter, brighter, straighter, and more perfect smile. Today there are several techniques within the world of cosmetic dentistry that can make such dreams a reality in just a couple of short office visits.
Two such techniques are dental bonding and porcelain veneers – Jay Hazen, DDS, Sarah J. Karls, DDS, and their knowledgeable staff perform both for Madison patients at Dentistry for Madison. But how do you know whether dental bonding or porcelain veneers are right for you? Understanding the advantages of each can help you make the right decision.
What Is Dental Bonding?
You may be familiar with cosmetic dentists using natural-looking tooth-colored composite resin as a modern replacement for traditional metal amalgam fillings. Your cosmetic dentist applies the tooth-colored resin to the space left after the cavity is cleared away, then hardens or "bonds" it to the surface of the tooth with a special targeted high intensity light.
This is dental bonding at its essence – but there are other cosmetic applications for the dental bonding process as well. Dental bonding can also be used to:
Repair chipped, cracked, and broken teeth
Change the shape of a tooth
Lengthen teeth for a more even profile
Fill in gaps between spaced or misaligned teeth
What Are Porcelain Veneers?
Porcelain veneers are thin shells of porcelain that are affixed to the front surface of one or more teeth to correct flaws and improve their cosmetic appearance. Your cosmetic dentist will remove a part of your tooth enamel before permanently bonding this shell to your teeth.
At Dentistry for Madison, we utilize state-of-the-art CEREC® equipment to create custom stain-resistant porcelain veneers for each patient within a single office visit. This new technology allows cosmetic dentists to offer visible results and happier patients in significantly less time – within hours, you can be out the door with the bright smile you've always wanted.
What Are the Benefits of Dental Bonding vs. Porcelain Veneers?
Should you choose dental bonding or porcelain veneers to correct your smile? That all depends on the dental issues you are dealing with. Both are strong and durable natural-looking ways to correct dental flaws, but each procedure has its own set of benefits and drawbacks:
Because dental bonding involves applying composite resin directly to the teeth, with no need for additional products such as porcelain veneers, dental bonding is often a less expensive option.
Porcelain veneers hold their color longer, and are less porous and therefore more stain-resistant than resin bonding.
Thanks to new technology, your cosmetic dentist can apply veneers to many teeth at once for a quick solution to a wider range of cosmetic issues.
While dental bonding is durable, it is less so than porcelain veneers – you may find that you will need to have the bonding solution touched up or replaced sooner than you would with veneers.
Because a portion of your natural tooth enamel is removed in order to fit porcelain veneers, the process is irreversible. If a veneer chips, cracks, or breaks loose, it must be replaced.
Contact Your Cosmetic Dentist Today
Whether you are correcting a minor flaw with dental bonding or a larger issue with a set of porcelain veneers, don't wait to make your dental dreams a reality. Contact Drs. Jay Hazen and Sarah J. Karls at Dentistry for Madison today to schedule an appointment and learn more about your cosmetic dentistry options.