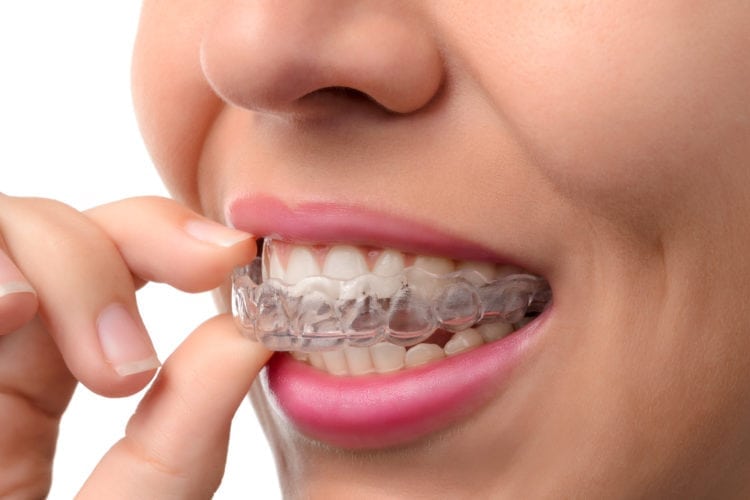 Are you self conscious of your smile? Did you have braces as a teen, but didn't wear your retainer as much as you should have? Before you commit to becoming a metal mouth again, learn about your options. Invisalign is a system that uses a series of plastic aligners to straighten your teeth gradually – they're completely clear, removable, and are a great option for both adults and teens.
Interested in learning more? Here are 7 things you should know about Invisalign:
Invisalign is for everyone! It can be used by adults and teens to straighten your teeth, correct your bite, and make you feel confident about your smile. If you had braces as a kid, but your teeth have shifted over time Invisalign is a great option to bring your smile back.
Your aligners are completely custom made from a patented thermoplastic material called SmartTrack. The material is FDA-approved and contains no BPA, BPS, latex, or gluten. They fit neatly over your teeth and are virtually invisible.
Invisalign is a great fit for both simple and more complicated changes. Aligners are changed about every two weeks – more complex changes take up to 3 weeks, while simpler changes can take only 10 days.
Your aligners can be removed while eating, drinking, brushing, flossing, playing sports, job interviews, or special occasions. It's recommended you wear them 20 to 22 hours a day, but you have the flexibility to take them out whenever you'd like for short periods of time.
Keeping your aligners clean is easy – it's just like having a second pair of teeth. You can clean them with regular toothpaste and a toothbrush to keep them clean from debris and stain-free.
Invisalign is a perfect match for those looking to get their teeth whitened, too! Your aligner trays fit over your teeth exactly like a whitening tray making it easy and convenient to get your teeth whitened along the way.
5,000,000 patients (including 4 million adults) have been treated with Invisalign so far and that number is growing every day!
Want to find out if Invisalign is right for you and your smile, even if you've had braces before? Call Dr. Jay Hazen's office today for an Invisalign consultation because a smile can change a life.
Stay in the loop by liking and following us on social media: